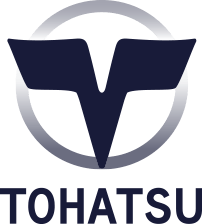 Portable Firefighting Pump
Tohatsu Pump is particularly renowned in the field of firefighting pumps, offering top-quality portable firefighting pumps. These pumps are widely utilized for firefighting services and emergency response during disasters, making them crucial products that require reliability and performance. Tohatsu provides an extensive selection of portable firefighting pumps to meet the needs of fire services worldwide. The key factors contributing to their success are their lightweight, compact design, and exceptional discharge capacity.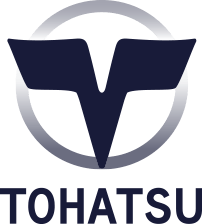 Automatic Relay Pump
4-stroke automatic relay pump. Unique, like no other. The world's first automatic relay pump.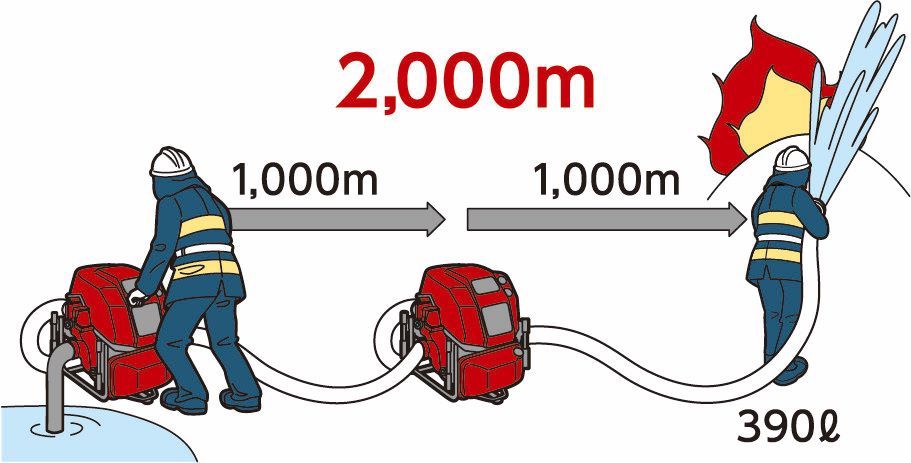 Here's an instance of how the automatic relay operation works (No operator is needed at the relay pump). The relay pumping line equipped with VF63AS-R has the capacity to be extended without limits. Once water makes contact with the VF63AS-R, the engine and pump functions kick in automatically, eliminating the need for manual pump pressure operation. As soon as the water supply from the main pump ceases, the VF63AS-R also halts on its own. This system is under full automatic control, presenting a novel solution for tackling forest and wild land fires, as well as for carrying out long-distance water transfers.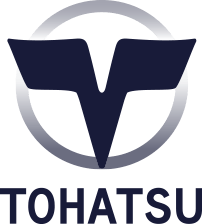 Pump Accessories

Fire Fighting Hose
Both "fire hose" and "fire fighting hose" are terms that describe the same product from the well-known Thuringian hose factory – Ohrdrufer SchlauchWeberei Eschbach GmbH. These terms encompass all types of hoses used by fire departments in the event of a fire, including both suction hoses and pressure hoses.
In the manufacturing of modern fire hoses, various materials are utilized, including elastomers. The use of high-quality materials enables these fire hoses to be stored while wet, preventing damage and even rot. Furthermore, the suction hoses and pressure hoses for the fire department from Ohrdruf exhibit strong resistance to external factors like heat and chemicals.
Fire Fighting Hose OSW FIRE

Product Features
- very low weight to relieve fire fighting forces
- very good kink radius for high flexibility
- low friction/pressure loss due to smooth EPDM-rubberlining
- high-quality EPDM-rubberlining is extremly resistant to aging, ozone and UV radiation
- root resistant, low maintenance
- cold resistance: up to – 40 °C
- heat resistance: up to + 100 °C (for water)
- signal colors offer high perceptibility/visibility in buildings and difficult terrain
- also suitable for sea water, hot water, water steam and many other chemicals

Fire Fighting Hose OSW FOREST FIRE

Product Features

- Signalling colouring with high visibility in difficult terrain
- Low roll size diameter (ca. 25 mm / 15 m roll)
- Extreme low weight to relieve fire fighting forces
- Very good kink radius for high flexibility in tough terrain
- "Self protection" due to percolating effect flame test:
10 min at 960 °C according to DIN 14811)
- Water loss only 4.8 % / Working pressure 9 bar
(made by 15m-length) – self wetting
- low pressure loss due to smooth EPDM-rubberlined
- Root resistant
- Cold resistance: up to – 40 °C
- Heat resistance: up to

Syntex Signal orange

Product Features

- highly visible because of the fluorescent signal colour in smoke and darkness → active safety → reduces the risk of accidents during the operation
- very light and flexible hose quality
- minimum maintenance
- extremely resistant to aging and ozone and UV
- excellent abrasion resistance
- temperature range from –40 °C up to +100 °C
- minimum friction loss because of very smooth inner lining
- suitable for sea water, hot water, many chemicals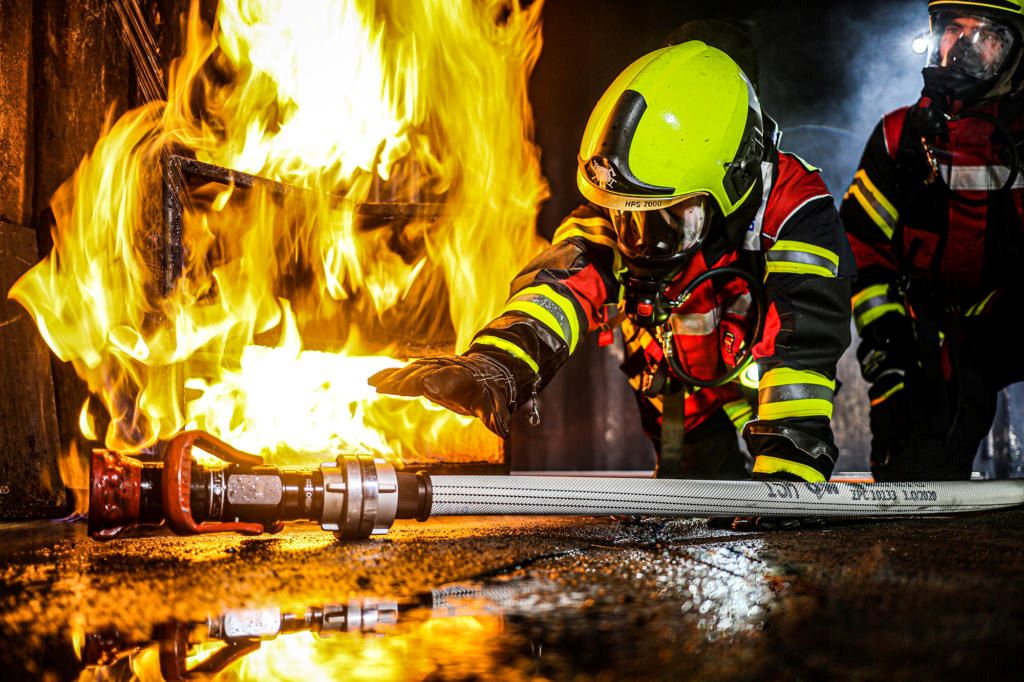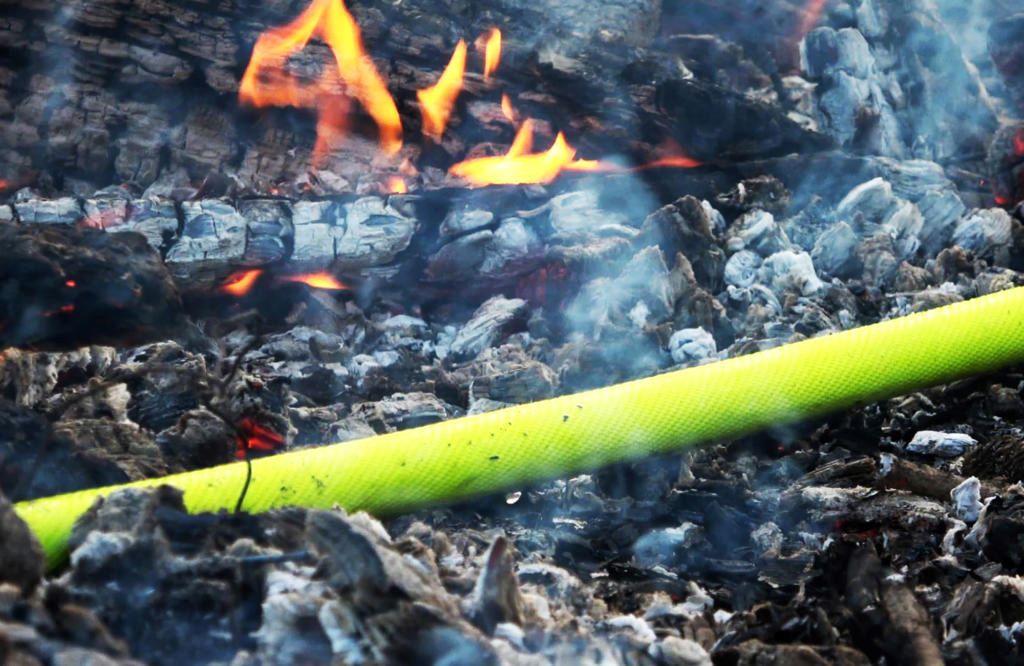 Fire Fighting Clothing
Every day, the fire department handles a wide range of tasks. This includes responding to fires, accidents, and other operational areas. Their main focus is on saving lives, rescuing both people and animals, extinguishing fires, and preventing harm whenever possible. Often, the fire department faces incredibly challenging assignments, requiring top-notch technical gear and attire that not only provides protection but also enables them to move swiftly and securely during missions.

NOVOTEX-ISOMAT provides precisely the appropriate protective gear for fire departments, complemented by comprehensive service and the option for personalized customization.

Protective Clothing
This equipment is designed for rescue missions, tasks involving high levels of radiant heat, and work conducted at the forefront of a furnace. Shigematsu Works Co., Ltd. is a leading company engaged in the manufacturing of occupational safety and health protective equipment and devices.
FC-60 Fire Protective Clothing (Heat Resistant Rubber-Coated)

Product Features:

- Protects from falling sparks in fire fighting activities.
- Lightweight, simple-type fi re protective clothing for firefighting and rescue work in fires.
- SCBA can be worn over the coat.
- Uses special fabric coated with heat-resistant rubber containing high-purity powdered aluminum.
- High level of water resistance and radiation heat reflectivity, and is very tough and wear-resistant.

FC-30PM Heat-Resistant Work Clothing(Aluminized Product)

Product Features:

- For operations under intense radiant heat.
- Air breathing apparatus can be worn underneath.
*Carbonizes at 450-500 °C in flames.
- Uses aluminum-vapor-deposited material with a highly heat-resistant aramid or pre-carbon fiber base fabric, and is lightweight.
Discover More Products: Click the logo to explore the maker's site.
If you are looking for any other products, please feel free to contact us.